THE STORY OF BUFFALO BLUE
We've been making our delicious Buffalo Blue cheese 2001 and it's been a firm favourite ever since its launch. It is special, it is unique and it genuinely surprises people when they taste it for the first time. So, as a result, we often get asked what makes it so special. And that's a difficult question to answer, because the truth is, there's quite a lot that makes it special, so we thought we'd tell you more…
How it all started
The journey of Buffalo Blue began when Judy decided to experiment with buffalo milk after the success of producing award-winning cheeses using Sheep milk, and it's been quite the story since.
A local farmer had acquired a herd of Water Buffalo back in 2001. He contacted Judy to see if she would be interested in using the milk to make cheese.
Given the success she'd had with sheep milk cheese Judy was keen to try it out. Judy and her son, Justin, experimented with the milk and in 2002, having perfected the recipe, they launched Buffalo Blue to the market.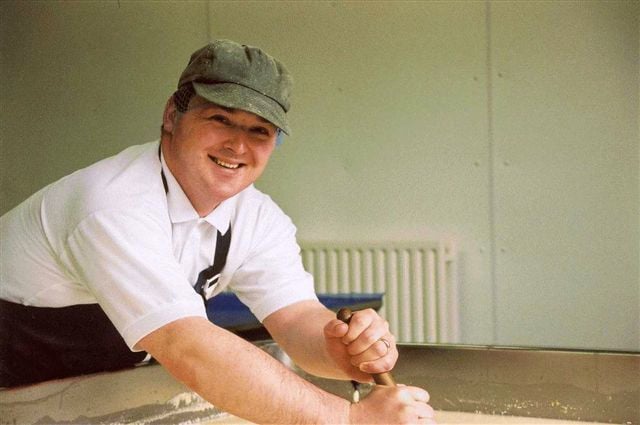 What happened next
In 2003, Buffalo Blue won numerous awards including at the British Cheese Awards, the Great Yorkshire Show, and the International Cheese Awards.
In late 2004 the local farmer stopped milking, but Buffalo Blue had been such a success that Judy began to explore other options for supply. It was at this point that Judy met the wonderful Bob Palmer, based in South Warwickshire. As a single-herd farmer the milk that Bob's herd produced was phenomenal.
The cheese continued to win awards and was soon a firm favourite with restaurants and deli counters up and down the country. Unfortunately, in 2012 Bob lost his herd of buffalo. Not being able to source a supply of milk that we were happy with, we sadly stopped producing Buffalo Blue, at least for a while.
Thankfully in 2018 Bob got back in touch as he'd managed to form a new herd, and the milk was better than ever.
He now supplies us with milk every 6-8 weeks and from it we produce the most amazing cheese.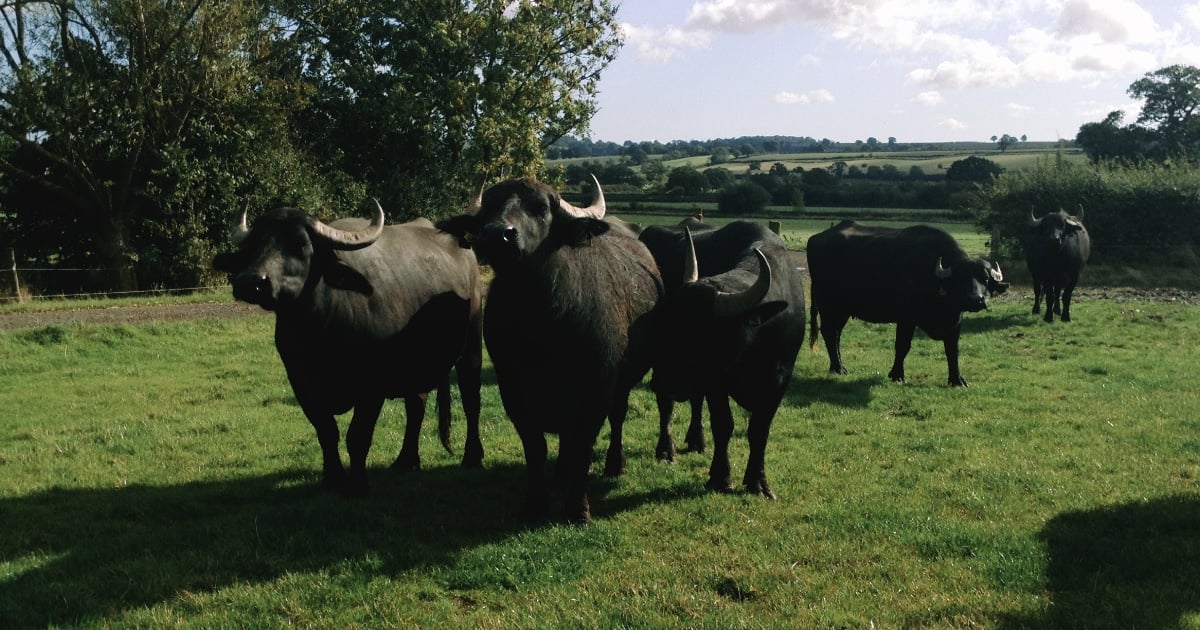 Why is Buffalo Blue so good?
Great quality cheese always starts with great quality milk, and the quality and consistency which Bob's milk produced is exceptional.
Once the milk arrives here at Shepherd's Purse it is treated with the utmost care. As with all the milk we receive, it is pasteurised onsite by our wonderful team, before being delivered to our small vats.
Bob delivers around 1,000 litres of buffalo milk every 6-8 weeks, which produces around 65 cheeses. Our cheesemakers mold up the cheeses, turning them regularly to ensure the moisture is evenly distributed throughout the cheese. Once the molds are removed the cheeses are hand-salted before being placed in our cheese store to ripen.
Each cheese is nurtured carefully by our team over a period of around 10 weeks. At this point it is taste-tested by our quality control team to be approved for release. The team never release a batch of cheese they are not happy with, but thankfully we've never experienced a batch of Buffalo Blue we didn't love.
The benefits of Buffalo
In the UK, the most popular milk consumed is cow's milk. It accounts for around 98% of daily milk consumption. Buffalo milk, being significantly more specialised, is more expensive, but it brings with it a whole host of benefits.
Buffalo milk is high in Vitamin A, which is what gives it a wonderful bright, creamy white colour. It is also higher in protein, with Bob's milk containing 33.3% more protein than cow's milk, helping you feel fuller for longer, and around 50% more calcium (promoting good bone health) compared to cow's milk.
Buffalo milk is higher in fat (and therefore calories) compared to cow's milk, which is what makes it perfect for making cheese, however, it has a much higher proportion of mono-unsaturated fats which mean it's much better for cholesterol levels and has great antioxidant properties.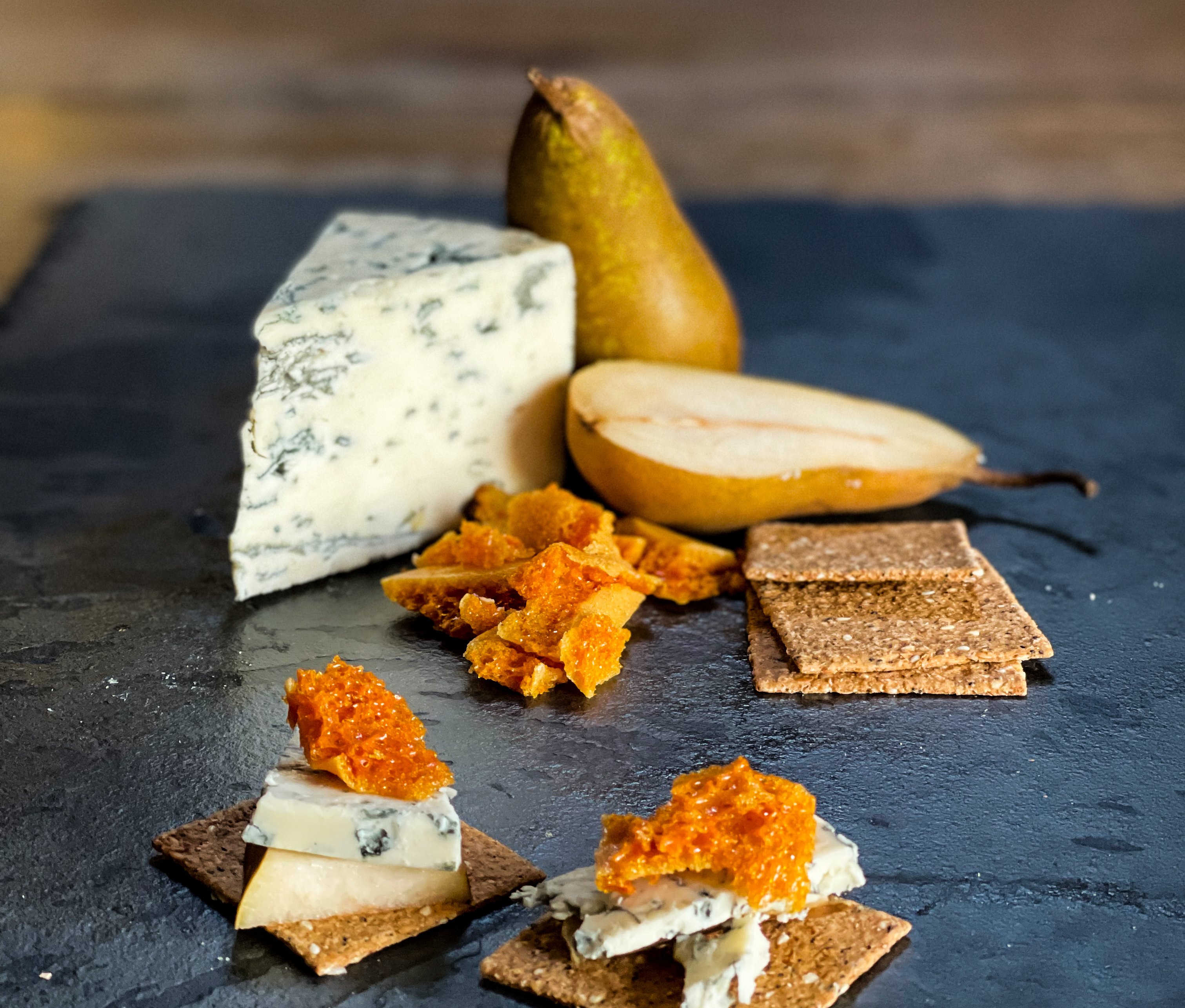 Awards
We absolutely love our Buffalo Blue cheese, and we accept we may be a little biased. However, we're not the only ones who love it. In the last few years alone, it has won some of the most prestigious awards in the industry, including a Super Gold at the World Cheese Awards in 2021.
Try it yourself, by visiting our online store or speak to your local cheesemonger to see if they stock it
Facts and figures from healthline