How to create a cheeseboard at home
As specialists in artisan cheese making, over the past thirty years we've done our fair share of cheese tastings and samplings at farmers markets, retail shops, events and private parties. And one thing we find people want to know, is: "Do you have any tips for putting a cheese board together at home?"
So, we thought we'd provide a simple guide to creating a great cheeseboard at home, so that you can share with your friends and family and your next (virtual!) dinner party - or 'gathering of six'...
What's covered in this post - here's some quick links you can jump straight into:
Why a cheeseboard is a dinner party favourite
Whilst cheese making and consumption goes back to ancient times, the experts think that cheese, as part of a dinner party, only really became popular in the nineteenth century - particularly during the period of Renaissance which saw cheese become a delicacy amongst the upper classes in Europe. It was during this time that the 'cheeseboard' entered history, where cheese became the perfect food for this 'new way' of eating: Artisanal Cuisine.
Cheese boards grew in popularity in the early 1900s, for high society social gatherings, where people would proudly display their finest terrines, caviars and charcuterie along with some special cheeses. However, it's also speculated that one of the reasons why cheeseboards became popular during this time was to save money by replacing expensive sweet desserts with cheese!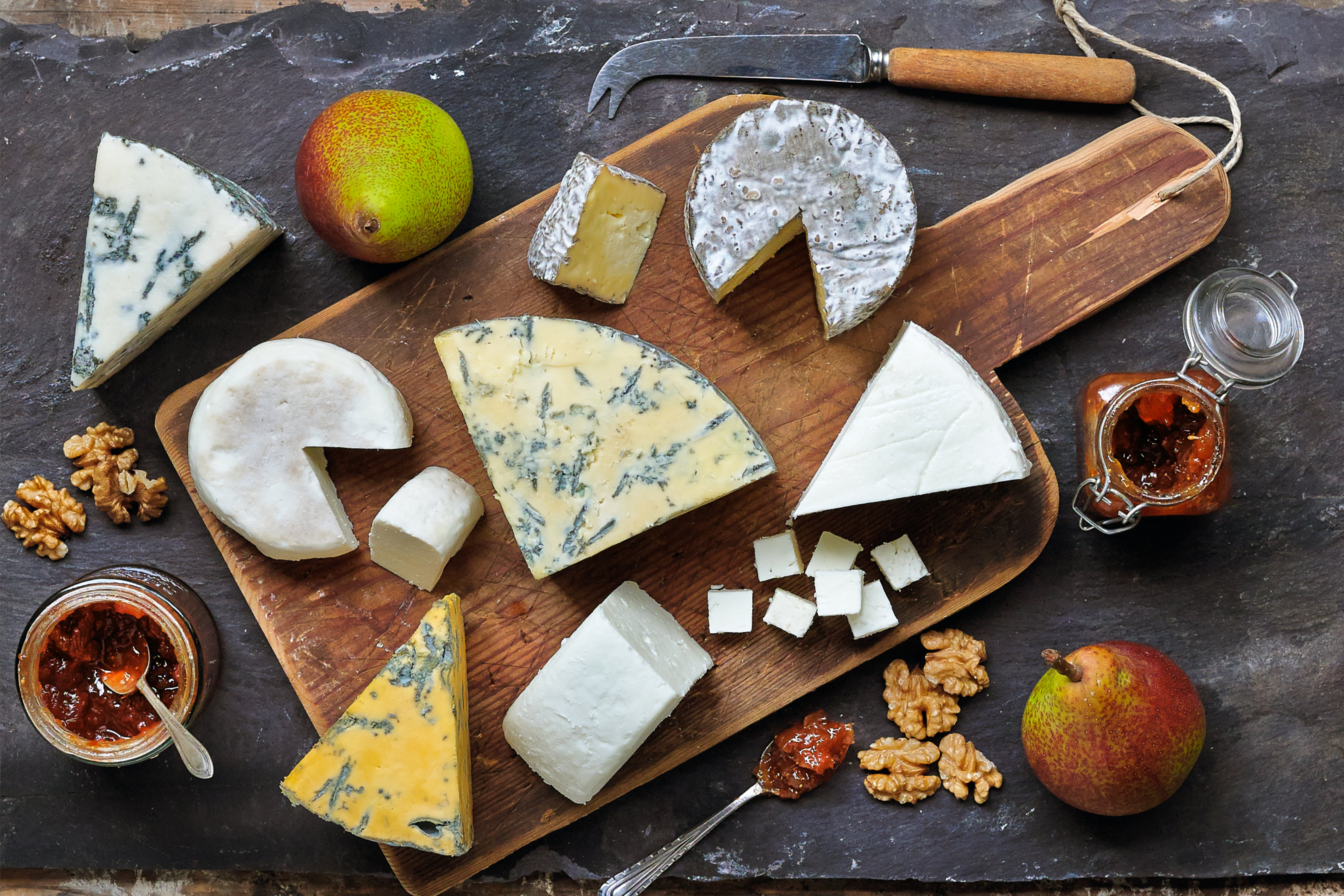 Temperature matters
To experience the most out of the texture and flavour of your cheese, let it warm to room temperature before serving it. It really can make the most dramatic difference to your experience. Usually plan for around 40 minutes out of the fridge. Although we can appreciate how tempting it is to tuck straight in - the wait is worth it!
"Let good cheese warm to room temperature and you'll transform yours and your guests' experience of it!"
The right tools
You'll need a good quality, flat, wooden or slate board - the shape can be anything you fancy! We recommend wood rather than marble because the latter can have a cooling effect on your cheese, as it's best to keep cheese at room temperature to maximise its texture and flavour. Other tools that come in handy include:
Good quality cheese knives - a different knife for each cheese if possible so that guests can keep digging in without contaminating one cheese with another.
Toothpicks for your guests- great if you have cut your cheese into cubes, and for olives and other nibbles!
Types of cheese to include on your cheeseboard
There is so much variety with cheeses that it can be hard to figure out what to include on your cheeseboard. As a general rule, a cheeseboard should include a mixture of hard and soft cheeses, with a variety in the type of milk, texture, age, strength and shape.
"We think that the fun part of a cheeseboard comes from the thought put into the selection: the textures, flavours, and the back-story behind each cheese, which can become a topic of conversation."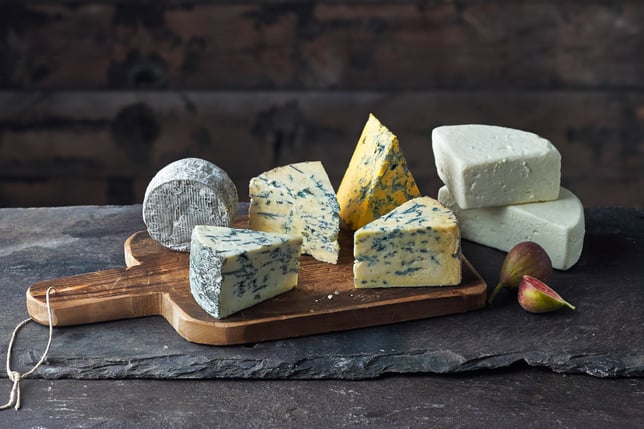 By milk type
As artisan cheesemakers ourselves, we have cheeses from different animals: sheep, cow and water buffalo; so using our cheeses, we have a really interesting variety immediately from the different qualities of the milk. You might also like to include goat milk cheese too.
By country
Another theme to focus on would be by country e.g. British, Spanish, Italian, French - and pick cheeses and accompaniments that fit with those countries. Or you could mix and match and go for a 'Cheese world tour' theme, with a variety of world cheeses to try!
Seasonal or Local
You could theme your cheeseboard by season, which gives plenty of scope to get creative with its contents. For example, an Autumn/Winter cheeseboard could include some seasonal veg in a new format such as root vegetable crisps, and warming/spicy chutneys; or toffee apples and treacle. Or you could showcase some great local produce with a local theme, such as 'Yorkshire' (of course we'd suggest that!)
Staging, shapes and presentation
Whilst the taste experience is the most important aspect of your cheese, you can make a big aesthetic impact with how you present it on the board. After all, your cheeseboard will have more than just cheese on it - there'll be accompaniments and condiments too. To avoid clutter, add some 'wow factor' and enticement to your board, consider trying some of these staging ideas:
Cubes
This is a classic technique, which not only looks neat but makes it super easy for guests to grab a taste of each cheese without needing other tools.
Triangles
Cut square or wheels of cheese into triangles and 'fan' them out.
Whole blocks of cheese
Place your whole blocks/wheels of cheese in various positions on the board, then add some small bowls (for condiments) and then fill in the gaps with nuts, sees, crisps, crackers and finish with a sprig of herbs for rustic effect.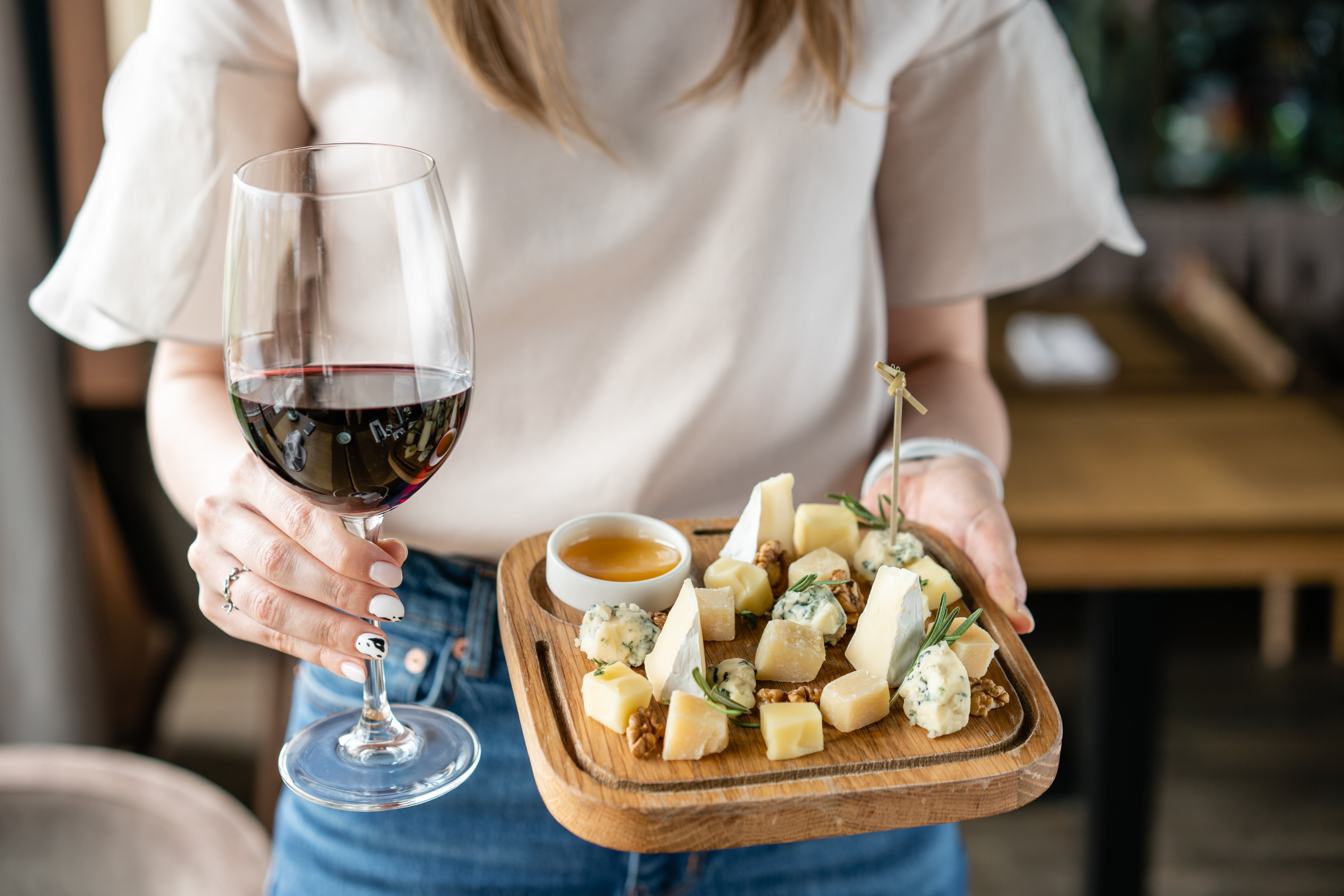 How much to serve?
Allow about 100g (3 oz) per person for a cheese board. (We prefer a more generous portion though to allow for those long after dinner sessions that go on for the rest of the night!)
When to serve it and what to serve it with
Traditionally in the UK, cheese is served after pudding (dessert), but the French traditionally serve the cheese plate or board after the main course and before the dessert.
Depending on the occasion, if you're having a get together with friends rather than a formal dinner party, you may want to make the cheeseboard the main event as part of a cheese and wine/beer/whiskey evening.
Despite its name, there can be more than just cheese on a cheeseboard.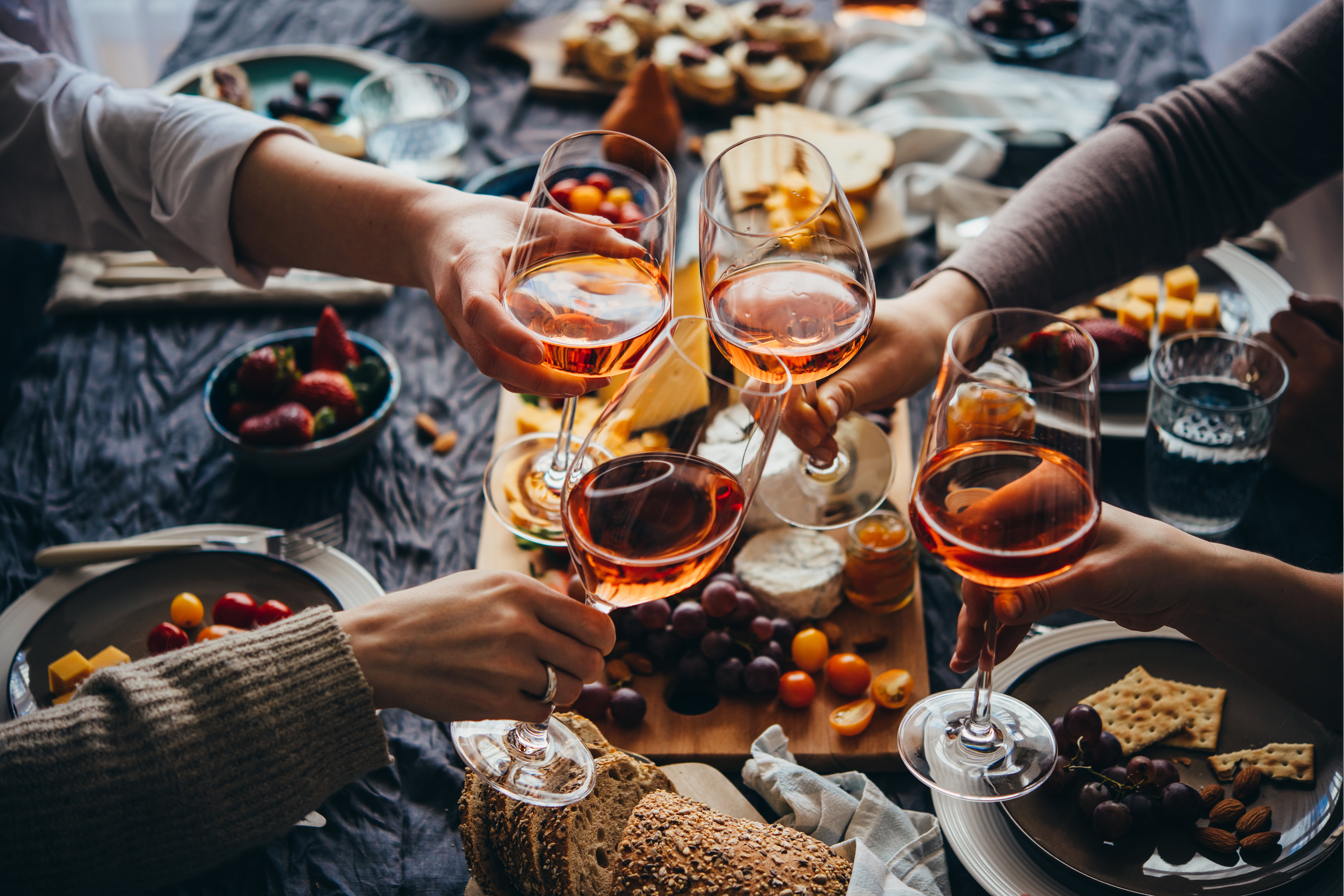 Here are some of our suggestions on what you could include:
Bread/Crackers
Crusty bread, especially when it's still warm, is beautiful with cheese! Try some:
Baguette or ciabatta
Unsalted crackers or plain water biscuits
Oatcakes
Breadsticks
Charcuterie
Cured meats are a perfect pairing with cheese, because not only do they taste amazing but they add a great pop of colour and texture to your cheeseboard. Opt for folding your meats to enhance presentation, and go for charcuterie like salami, chorizo, or some spicy 'nduja sausage in any form to your board. You could also include hams like Iberico, Prosciutto, Guanciale - or keep it local with a nice Yorkshire cooked ham or some generous slices of honey roasted gammon.
Nuts/seeds
Nuts add some class and crunch to your board and pair beautifully with cheese, especially blue cheese. Opt for almonds, brazil nuts, hazelnuts, walnuts, macadamia nuts, or cashews.
Chutneys, Honey and Preserves
Honey, chutney and preserves are fantastic accompaniments to cheese and crackers or bread.
"A cube of blue cheese drizzled with a good quality blossom honey is simply delicious!"
Fruit, veg and herbs and more
Try some sweet dried fruit and fresh fruit combinations which balance the saltiness of the cheese. Dried apricots and figs are firm favourites, but fresh grapes, raspberries or apple slices are simply divine and add some acidity.
Other things to try include:
Dates
Strawberries (tastes amazing with our Olde York cheese)
Radishes
Tomatoes
Pickles
Olives
Sprigs of herbs
Dark chocolate
"A small cube of blue cheese with a square of dark chocolate is an unusual and surprisingly great combination of flavours!"
Back to top
Perfect alcohol pairings for your cheese
Wine and cheese is a classic combination, particularly, sweet dessert wines pair perfectly with a creamy blue cheese, such as our Mrs Bell's Blue or Buffalo Blue, with a glass of Sauternes, Marsala or Port. Surprisingly though, Beer and Whiskey are becoming increasingly popular pairings with cheese! Try a Pale Ale with a mild and creamy cheese such as Fettle, or dark beer like a rich Stout or Porter with a punchy blue cheese such as our Northern Blue.
For more tasty pairing tips, we've provided some ideas on perfect cheese pairings with beer, wine and whiskey here.