CONSISTENTLY WORLD-CLASS ARTISAN CHEESE
Why do we do what we do? What are we obsessed with? The answer is producing and delivering world-class cheese EVERY BATCH. It's what drives us towards excellence, to do better, to be better in everything that we do. So that when you choose a Shepherds Purse cheese, you can trust that you (and your family and friends) will have a great experience. Be that Yorkshire Blue ,Buffalo Blue or Fettle, there may be slight variance each time you enjoy, as there is with any artisanal, natural, living product, but it will be top quality.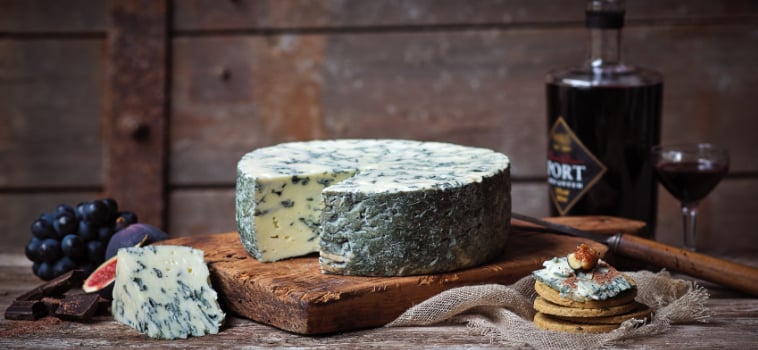 And with all the challenges that have been thrown at us over the past 18 months, it's only made us more sure about this. You deserve quality and enjoyment, and we will deliver it.
But it's all well and good us thinking we deliver world-class cheese. How do we test this? Well, one of the ways is by entering the competitions.
This year, we have had mission affirming results - a HUGE 33 awards for our cheeses. The highlights of which were ...
Virtual Cheese Awards - Mrs Bell's Blue won First Place and the company won the Cheese Hero Award for our work with Simon Stott and the sheep milk farmers throughout the pandemic.
Artisan Cheese Awards - Mrs Bell's Blue, Northern Blue and Buffalo Blue won Gold medals
Great British Food Awards - Harrogate Blue won best blue cheese. The judges said "This really was a standout cheese from all the entries that were entered. Beautifully creamy with a wonderful balance of saltiness, savoury notes and a slight sharp finish. The golden colour of the cheese almost makes it seem creamier and buttery with its rich orange glow. This is a new favourite of everyone who tried it."
Great Taste Awards - Four of our cheeses won a coveted star. Yorkshire Blue, Harrogate Blue, Mrs Bell's Blue and Bluemin White AND Mum won the Lifetime Achievement Award, which was incredibly moving and very special.
International Cheese and Dairy Awards - Harrogate Blue won two Golds and Yorkshire Blue won Gold too
World Cheese Awards, which this year was part of the the International Cheese Festival in Oviedo, Spain. Incredibly, we got two cheeses into the final 88 of 4095 cheeses, both Harrogate Blue and Buffalo Blue won Super Golds. We are one of only two cheese producers in the world to get two cheeses into the top 88.
And it's the consistency that matters. Winning these awards matters, but only as much as it can point you toward good cheeses. Then, the actual cheese you buy must live up to the hype, and for us, that's why our mission is world-class cheese every batch.