Top 5 Beer, Wine and Whisky pairings with Cheese
Ask any cheese lover about pairing cheese with other food and drinks and they're likely to have a favourite recommendation - whether it's the usual cheese and crackers, to more unusual or adventurous pairings like ice cream, dark chocolate or even sauerkraut! We have our favourites too, and not surprising that many are alcohol pairings - unsure what that says about us?! We love a good beer, wine and whisky with our cheeses, so we've laid out some of our favourite recommendations below that will hopefully leave you pleasantly surprised!
Finding the perfect match
It's amazing how our approach to food and beverage pairings have changed over the years. Not that long ago, you'd be hard pressed to find extensive recommendations for beer and cheese, let alone whisky and cheese, as wine and Port were always the more traditional choice. Yet because beer is so versatile, with its huge variety of flavours from pale ale to dark beer, it's brought a world of new combinations and options, meaning you can be much more experimental and ambitious with your cheese pairings!
Supporting Local
In line with our ethos, we support the best quality, thoughtfully produced food and drink - and when that can be found locally, that's even better! Thankfully, in Yorkshire we have an abundance of incredible food and drink producers and small scale farmers, so when possible, we love to share their work in our pairings and feature locally-made products that we have not only tried ourselves, but really enjoy too!
Getting started pairing cheese with Beer, Wine or Whisky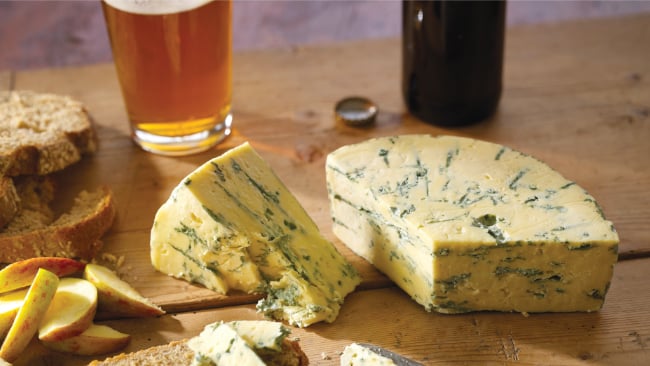 Image: Yorkshire Blue & Beer
Any cheese pairing tasting session needs to start with milder pairings, and slowly work its way up to the strong stuff. So our first recommended pairing comes in the form of pale ale and cheese. Read on...
Pairing #1: Pale Ale and Cheese
Pale ales with their light, refreshing flavours work really well with slightly milder cheeses. For this pairing, our Fettle cheese makes a perfect match with Golden Summer from Wold Top Brewery.
Golden Summer is a 4.4% pale ale that makes the ideal drink for barbeques and warm summer nights, sitting in the garden socialising with friends and family. When paired with our Fettle, the cheese's meadowy sweetness combined with its salty rounded flavour, works beautifully with a swig of Golden Summer, where the ale's floral notes add a refreshing finish to the mild saltiness of the cheese.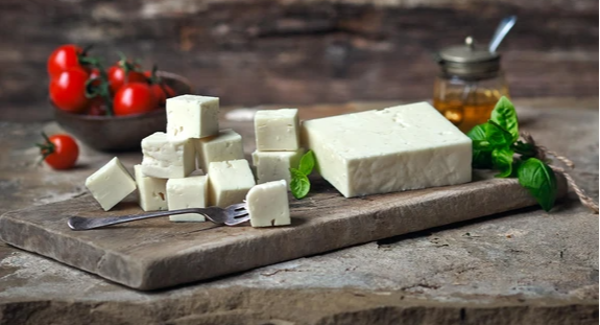 Image: Fettle, feta-style cheese made with milk from British ewes
Pairing #2: Dark Beer and blue Cheese
A dark beer, like a rich Porter, is a heavenly match with blue cheese. For this pairing, we chose the Marmalade Porter, another beer from Wold Top Brewery, which is a rich, dark, and smooth Porter. It has hints of citrus (orange/lemon) combined with smooth chocolate and rich coffee, making it a ridiculously easy drinking beer.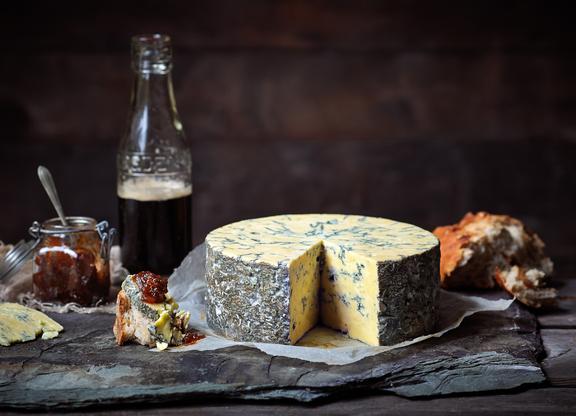 Image: Northern Blue
The smokiness from the roasted malts pairs it well with our Yorkshire Blue, which is a relatively mild blue cheese, with a saltiness and creaminess that doesn't overpower the richness of the beer. For blue cheese lovers who like a stronger blue, our Northern Blue cheese works incredibly well with dark beer, giving a kick of sweetness and bitterness.
---
Looking for Father's Day gift inspiration?
---
Pairing #3: Desert Wine and Blue Cheese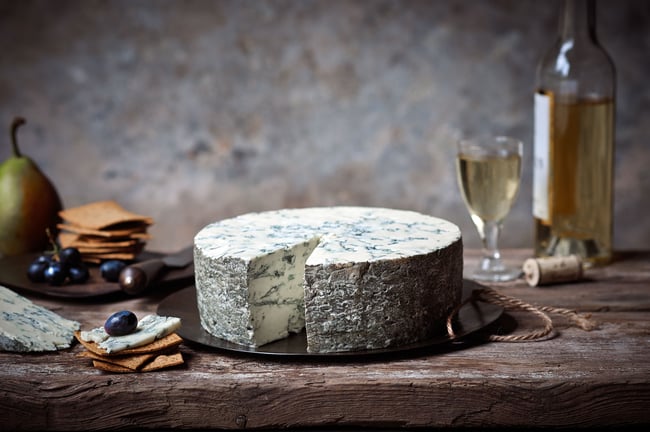 Image: Buffalo Blue & Sauternes
Sauternes is a perfect match for our blue cheeses. It's one of my favourite matches. I remember the first time I experienced it with one of our wine partners, it was a moment that allowed me to understand the power of great pairing in a deeper way. I wouldn't choose a desert wine generally, but then trying it with our Mrs Bell's Blue was a revelation! And now I love it with our Buffalo Blue too.
Sauternes is a classic desert wine from the area around the village, Sauternes, in France, around 40 miles south of Bordeaux. It has an intense golden colour (recognisably a little darker than most other desert wines) it can look like a rich honey colour in the bottle. It can smell sweet like honeysuckle, herbal, and rich apricot. Mostly made with the Semillon grape but can include Sauvignon Blanc too.
The sweetness of the wine is balanced with enough acidity to deliver a freshness to palate and, rather than being cloying, it plays the role of cutting through the creamy blue cheese to allow the savoury and salty flavours to combine beautifully with the fresh sweet wine.
Other interesting options to try would be a Marsala from Sicily, a fortified wine, or an Oloroso. As well as a classic Port - but I think we'll come back to that one in a separate post!
Pairing #4: Wine and Blue Cheese
We touched on desert wine above, and these sweet wines work great with blue cheese, and it's often understood that red wine is a classic pairing for a blue cheese. However, it's not without its pitfalls, so when you're experimenting don't be surprised if some combinations work and some fail in the pairing test.
For example, milder blue cheeses can be overpowered by a red wine with high tannin levels, so you want to be looking for medium/light bodied fruity red wine like Pinot Noir or some of the Cabernet-based red wines. We may even go so far as to say it's hard to find a truly great pairing combination with red wine and blue cheese - usually it involves a third wheel to make the combination really sing.
Surprisingly for some, a white wine is nearly always a better option, particularly for the mild and creamy blue cheeses. A milder aroma, good levels of acidity and sweetness can suit a mild blue cheese more than the robust tannins and characteristic element of bitterness of many red wines. Think Riesling, dry Italian whites, and Sauvignons and then when you move away from blue cheeses, your wine options open up even further.
Other cheeses that work well with white wine
Last year, we were lucky enough to attend the opening of a vineyard just down the road from us, near one of our local market towns, Boroughbridge. Dunesforde Wines in Upper Dunsforth, run by the Townsend family, have launched with two wines.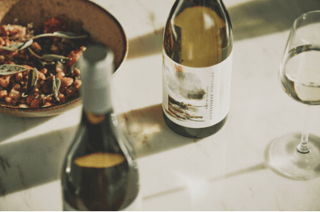 Solaris, whose early ripening means it's refreshingly crisp and dry. Aromas of lemongrass and tropical fruits are accompanied by citrus flavours which pair perfectly with our Fettle. And Bacchus (pictured left), a dry white wine with aromas of freshly cut grass and lemon zest. Light and refreshing on the palate with juicy citrus notes and hints of elderflower - again great pairing with our Fettle cheese. The 2018 vintage of each of these were stunning, and we know that they have Pinot Gris and Pinot Noir Précoce growing too so we look forward to future vintages and new wines from the Townsend family!
Pairing #5: Whisky and Blue Cheese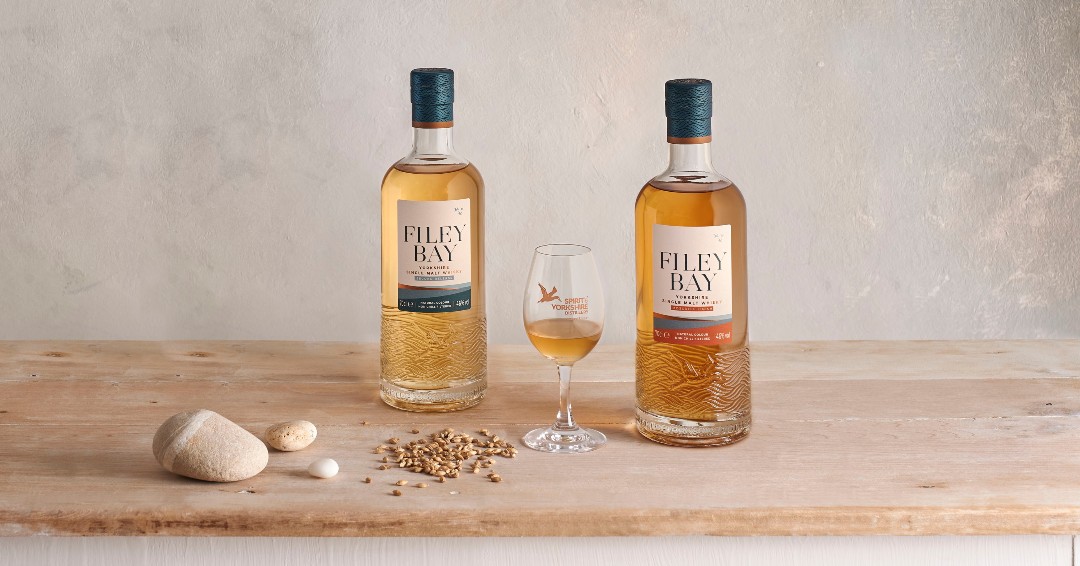 Image credit: Spirit of Yorkshire Distillery
When we started Shepherds Purse Cheeses in the late 1980s, it's safe to say that food culture in the UK (actually perhaps let us only speak to our part of the UK in Yorkshire) was not as diverse and rich as it is now. And as such, pairing whisky with cheese was not really on our radar.
As we've explored more, we've tried more slightly unusual matchings, and have fallen in love with this particular whisky and cheese pairing.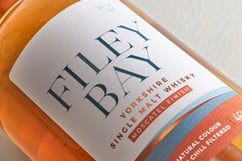 Filey Bay Moscatel (pictured left) is a single malt whisky made in East Yorkshire by the Spirit of Yorkshire distillery, and is one of the most accessible, light and fruity whiskys we've tried. By accessible, we mean for non-whisky drinkers, this is a great introduction - it combines depth of flavour with a light creaminess making it a very easy drinking whisky.
This Moscatel version is particularly great for blue cheese - matured in bourbon casks, as usual for Filey Bay, and then this one is then moved into Moscatel casks from the Sherry region of Spain which gives the whisky subtle dried fruit and orange notes. Its taste profile combines floral and mineral 'sea' aromas with flavours of vanilla, honeycomb, caramel and marmalade, making it a perfect match to a sharper flavour like those from a blue cheese.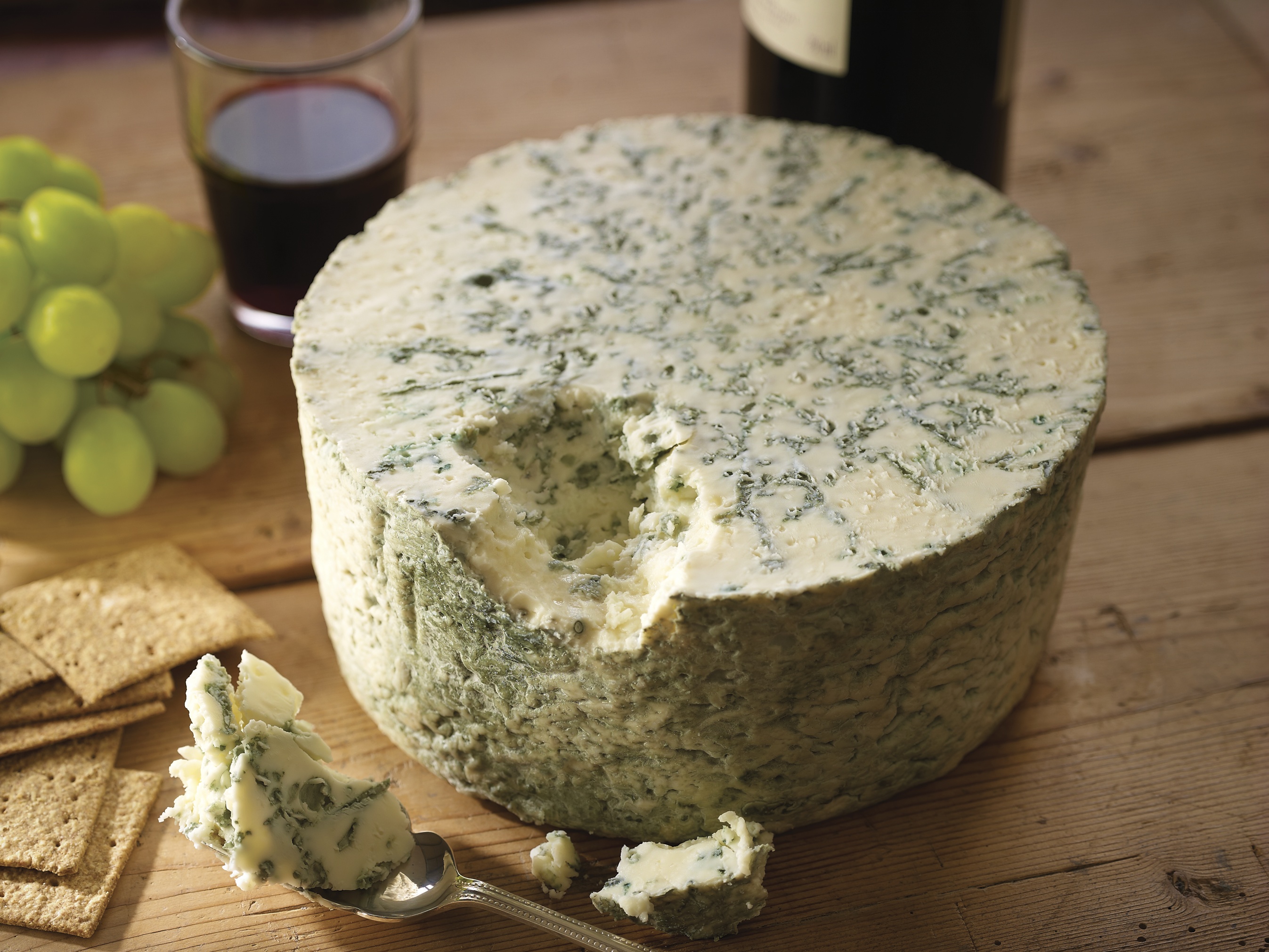 Image: Mr's Bell's Blue
We recommend pairing Filey Bay whisky with Mrs Bell's Blue for an intense salty, sweet and slightly spicy taste experience. Harrogate Blue or Buffalo Blue both work exceptionally well too; where the whisky cuts through the natural sweet creaminess of the cheese - combining delicious umami notes with the sweetness and sharpness of the whisky.
fun fact: When is whisk

e

y a whisky?
Even when we were writing this post, we've moved back and forth on this - and so with the help of the global interwebs, we have the answer:
Both spellings of the word, whiskey and whisky, are correct - so whilst you shouldn't worry too much, there is an accepted etiquette. The accepted rule is that if you're talking about a drink that's been made in Scotland, Canada, or Japan, you use whisky (without the e). When referring to drinks distilled in the United States or Ireland, use whiskey (with the e). And in the case of Filey Bay, they learnt all there is know from the Scots - and so proudly, and as they're crafting a Single Malt, they purposefully and proudly use whisky.
Try a virtual 'lockdown' tasting with friends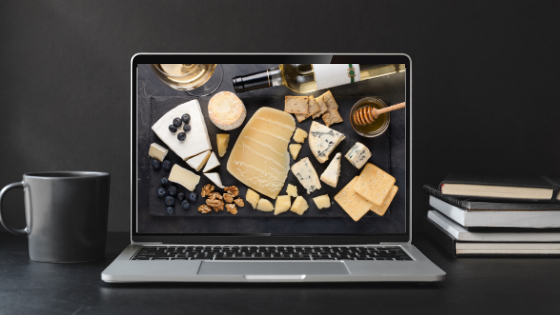 Go virtual with your cheese tasting! Image credit: Canva
We might be in the middle of a global pandemic, where social contact is limited, but it doesn't mean we can't socialise virtually (or at a safe distance) and continue with tasting and experimenting with food. Trying a virtual tasting with friends over video chat can be a great way to share an experience even when you can't be with each other in person.
We want to inspire and encourage you to take pleasure in your food, and be confident to try new and unexpected flavours. It may be unconventional but pairing drinks such Gin and even Coffee with cheese, can make for a very interesting taste experience, and help you to explore and try and define flavours, and why they work, or don't work, for you.
There is literally endless opportunity to be creative when matching cheese and beverages, and there's nothing more exciting then when you discover a new combination that really works! If you try any of these cheese and beverage pairings, or have some of your own suggestions, Tweet us @shepherdspurse or share a photo on Instagram using the hashtag #ShepherdsPursePairings and tag/mention @ShepherdsPurseCheeses.