An Update From Shepherds Purse Regarding COVID-19
I want to start again with a huge "thank you" to our team and the Shepherds Purse family. Each and every person has stepped up to deliver what's been needed throughout this extremely challenging time.
For some, this has meant being on furlough and accepting it with grace and support. For those still working here, it has meant an exceptional effort cheese making, cutting, wrapping and packing, all whilst maintaining the focus of keeping each other safe and protected. We've rapidly got to grips with new processes, new formats of cheese, new ratios of workload and new routines. And I know I'm not the only one who feels that we will never forget the heart, compassion, care and grit showed by our team throughout this period. We've looked after each other, and are still looking after each other. And for that I'm most proud.
NEW PROCESSES
Each morning myself and our production team welcome each team member on to site and health check (as well as discuss the finer points of their lunch box choices!)
We have staggered arrival so that changing spaces can be used safely. As we've been able to bring some of our team back from furlough, we have issued face masks to ensure that everyone has maximum protection. Our environment in production, by its very nature, is exceptionally clean with regular hand washing and sanitising and cleaning built into our DNA; however, we have extended these practices to our non-production areas too.
Thanks to our friends at Mason's Gin down the road, we were able to get extra sanitiser when our normal suppliers limited supply and tripled the price, so we're well equipped to support all operations, including necessary visitors to site for maintenance.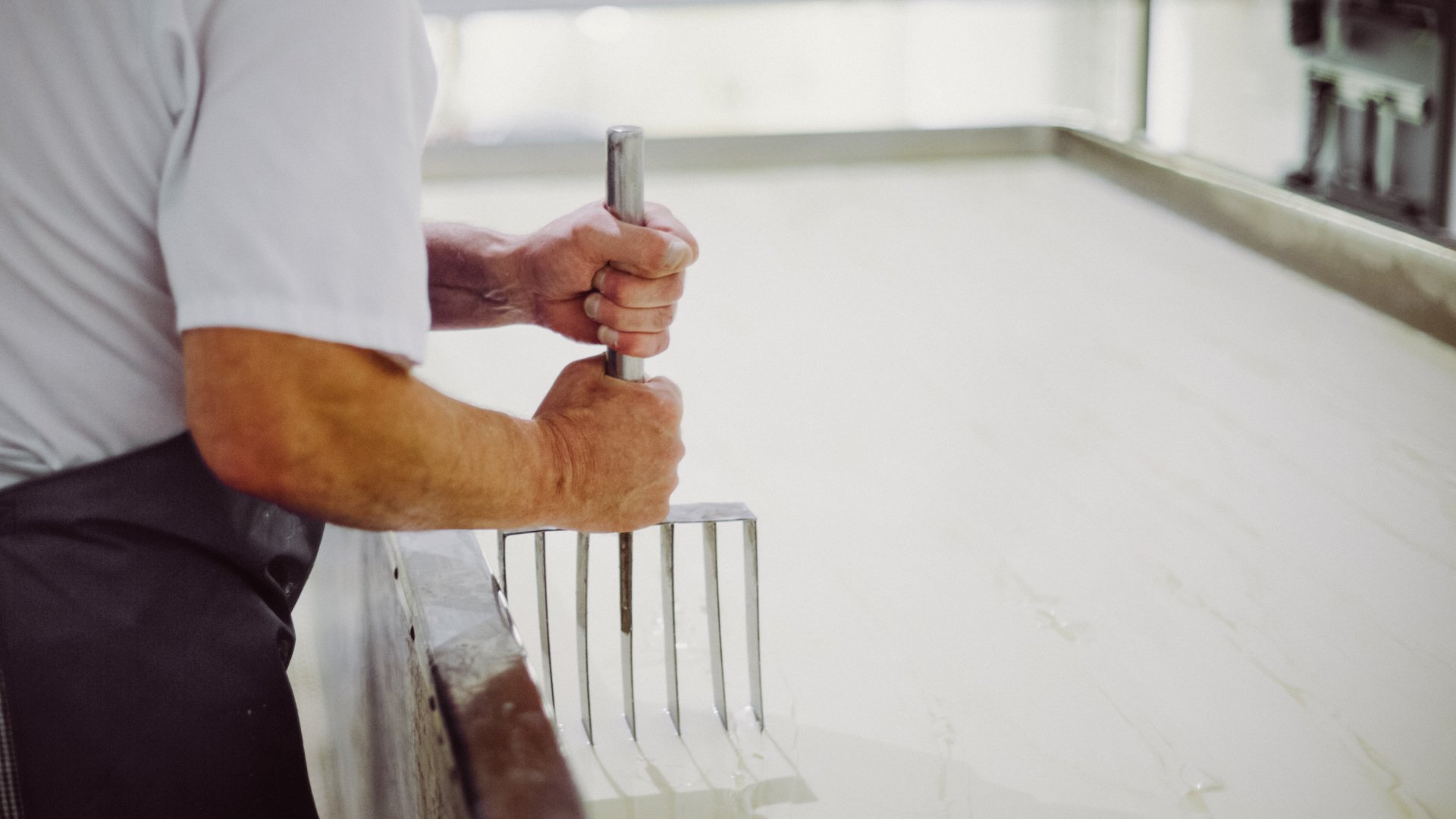 Impact of Covid-19 on the food industry
In our last blog on this subject, on 19th March 2020, it was all just beginning. We knew where we sat, and still sit, in the food ecosystem, we knew our responsibilities and who we are reliant upon ourselves. It took until the beginning of April for the food service and deli counter closures to impact on our trade, and impact it did.
By early April, we were trading at 50% or less of normal sales. Swift action was needed with our team here, and our ripening cheeses, for our business to survive.
Taking positive action to support sheep milk farmers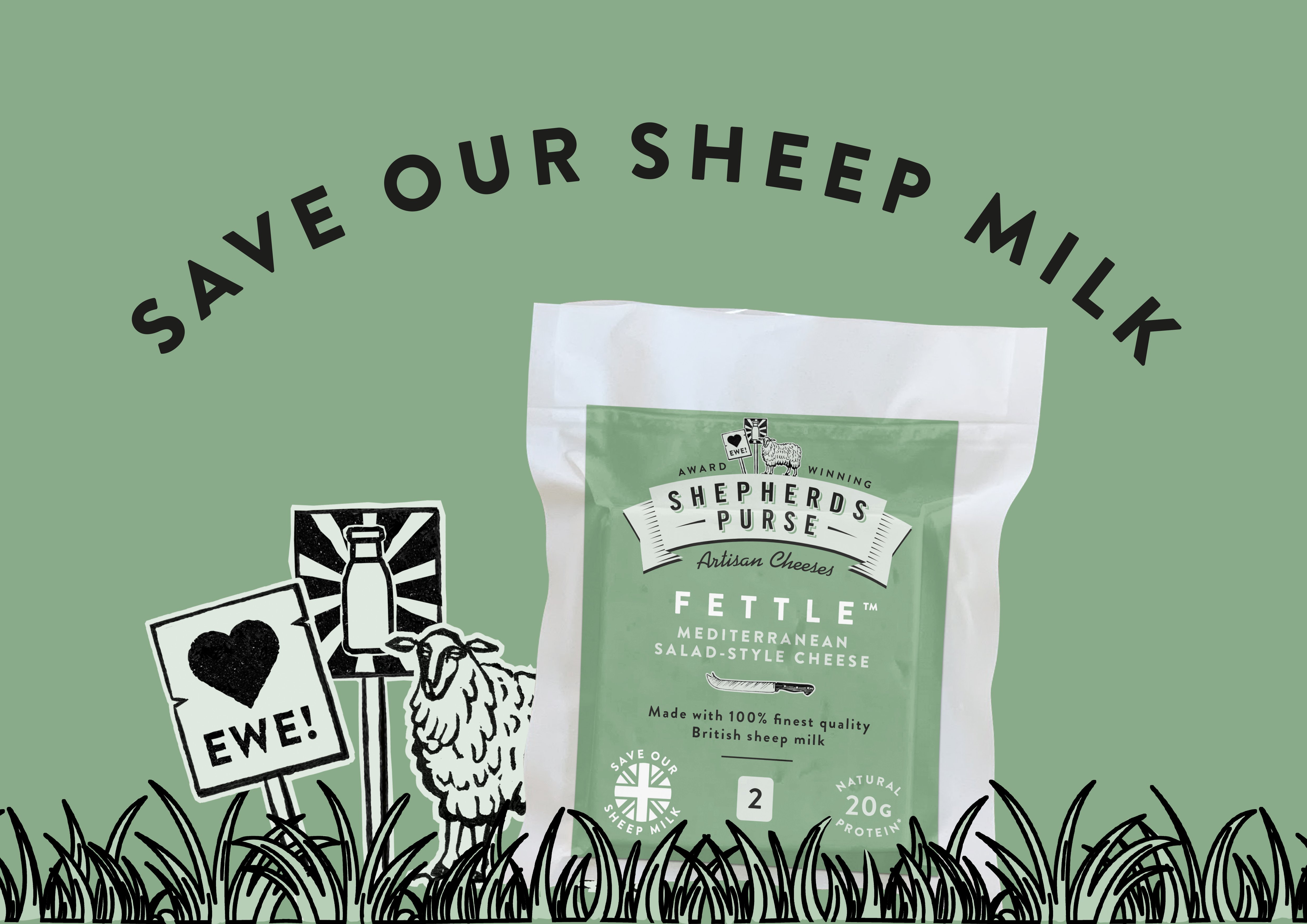 In parallel to the above, following a conversation with our sheep farmers on March 20th, we had decided to take a risk and invest in a new format of Fettle - our sheep milk feta-style cheese. This meant investment in packaging, design, printing and production, but without it, we couldn't see a way to keep taking volumes of milk from our sheep milk farmers, and we were one of only 2 (out of 22) of their customers left. We knew, from when we had our own sheep, the impossibility of pausing supply and the long-term effects on milk supply if a farmer has to dry off. So we had to help.
View our Save our Sheep Milk Campaign support page to see how you can help
We looked at any grants available, and sadly we weren't eligible for any. Even the grants designed for innovation excluded us as we were too closely linked to agriculture. So, we had to make the choice to risk it and invest with our increasingly precious cashflow. We set a plan to launch our new format Fettle product, knowing it was a tall order but once the decision was made we were 100% committed.
To me, it felt like we had no choice but to do it. Again, I'm very proud and grateful to our team here and our partners who went the extra extra mile to achieve all the things necessary, in record time, to make this happen. From design to printing, packaging manufacture and delivery, labels, outer case boxes - the list is long and the people involved were all truly exceptional. And I'm so proud to have launched this product on May 4th 2020.
Thank you to our retail and wholesale customers
In constant communication with our retailers and wholesalers, large and small, I again, cannot thank them enough for their support and flexibility in amongst the chaos and unpredictability of the market.
Across all of our cheeses we've had great support from our retailers, who we know have faced their own challenges. We've been cutting and wrapping mores cheeses than ever down to smaller portions here in the dairy to help sustain the business.
Morrisons and Booths have been the first major retailers to stock the new Fettle and their early commitment has been vital for all involved. We have more who are working hard to get it listed as I type. We're still up against the clock with this situation - there's huge amount of excess milk and we have to move quickly to save the farmers and the sheep.
Thank YOU to all of our followers and loyal customers
Finally, the support of our end customers, those of you who love our cheeses and tell us! Who seek it out in the shops and delivery services. You've been amazing! Our direct web sales have gone through the roof too and the feedback we're getting is energising. We're improving our offering everyday and welcome feedback.
Moving forward in these unpredictable times
So, please continue to seek out our cheeses, we'll be telling you where as much as possible.
If you're a retailer and you don't already stock us, or if you do, and you don't feature on our map, please let us know and contact us. If you're a retailer stocking Fettle already, equally, please let us know - and we can share that you are stocking it.
If you want to buy our cheese as an individual, and you can't get out (for various reasons such as self-isolating/shielding), then we have our website here for you to order for delivery direct to your door.
And lastly, please share our story and that of our sheep milk producers on your social media platforms. They need your support right now. If you sign up here, we'll keep you up to date with progress and new milestones with our 'Save our Sheep Milk' project.
Thank you to our team - let's keep going!
Thank you again to the whole Shepherd's Purse family, we've a tonne of challenges facing us, and a long journey ahead; but I couldn't be prouder of how we've faced these first three months.
Together with our suppliers, our wholesalers, our retailers and the hospitality trade waiting to get going again, we'll work together and continue to deliver the best cheese to our customers - nutritious and delicious cheese to get us all through this!
Best wishes,
Caroline x